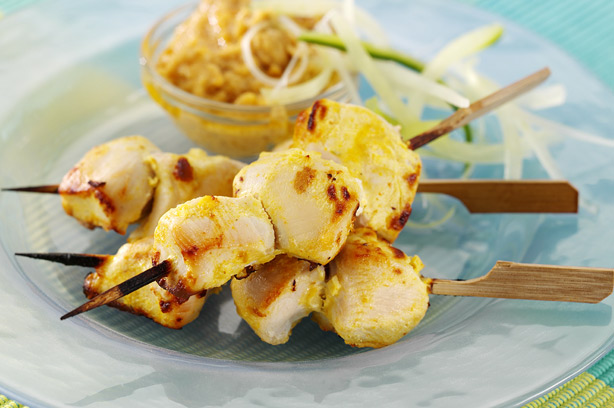 Kebabs
Kebabs
are great finger food that don't leave your guests balancing messy fingers, napkins and drinks. All you need is some wooden or metal skewers and you're ready to get spearing! Chicken, vegetables, prawns, beef - whatever you fancy, a kebab is a great way or serving your buffet food.
Our favourites:
* These small
chicken kebabs with peanut dip
(pictured) are so easy to make and taste delicious, the chunky peanut sauce is one you'll definitely be making again!
* Love a bit of cheese? Our
easy halloumi kebabs
are a great way to get the best flavour out of your cheese and your guests will love them too.
*
Prawn kebabs
are cheap, quick and easy - but they look nice and fancy on the table. Buy a pack of prawns and some wooden skewers and you're nearly there.
How to serve:
If you're serving more than one type of kebab make sure you keep the different varieties seperate - this is for food hygiene and display pruposes. Kebabs look great laid out on the plate in a linear fashion. You could also be fancy and serve them standing up in a vase in the centre of the table depending on the length of the skewers.