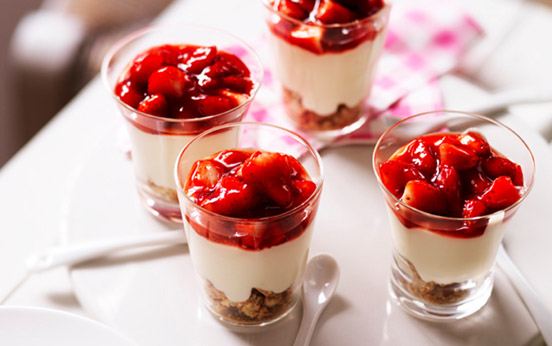 Cheesecake
Another classic dessert that you often find on the table at Christmas time is
cheesecake
. It's smooth, creamy with a crunchy biscuit base, sweet centre and juicy fruit topping, what more could you ask for?
Our favourites:
* Mini cheesecakes are ideal for a buffet spread as they're quick and easy to make and look great on the table. Our
strawberry cheesecake pots
(pictured) are served in shot glasses to make them a buffet treat. These are best made the day before or early morning of your party.
* Another one of our favourite mini cheesecakes recipes is our
chocolate and cranberry cheesecake shots
. Chocolate and cheesecake - need we say more?
* If you want to make a dessert that catches the eye our
vanilla cheesecake slice
is a great option. It's best made the day before so it can set but is well worth the wait.
How to serve:
If you're thinking mini cheesecakes you'll need plenty of shot glasses or small tumblers to serve them in. If you'd rather make a large 'help yourself' cheesecake, a simple platter would do. Decorate your cheesecake and the edges of the platter with fresh berries like strawberries and blueberries - It'll make the cheesecake look brighter and healthier. Serve with a small jug of fresh pouring cream in case your friends and family want to be extra naughty.
If you'd prefer, slice the cheesecake before serving, but if you want it to look nice on the table, let your guests cut their own slices. Leave a large cutting knife and serving knife together beside the cheesecake. Make sure your cheesecake is in the centre of the table so the kids' can't reach the knives or poke their fingers in it!