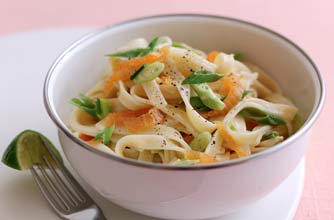 Pasta with smoked salmon cream sauce
Why so healthy?
Smoked salmon is full of nutirents and has such a powerful flavour that you only need a light drizzling of olive oil and a dash of double cream to finish off this dish.
Calories:
243 cals per portion
Fat:
13.0g
Time it takes to make:
25 mins
Top tip:
For a quicker recipe use tinned salmon.
Get the recipe:
Pasta with smoked salmon cream sauce