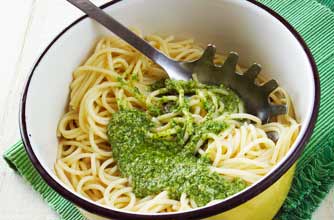 Rocket pesto spaghetti
Why so healthy?
This recipe shows you how to make a homemade pesto sauce, which is much healthier than shop-bought. The pine nuts in the sauce are a great source of protein.
Calories:
226 cals per portion
Fat:
23.0g
Time it takes to make:
25 mins
Top tip:
When picking rocket from the shop, make sure you go for a bag with dark green leaves. Avoid any that are starting to turn yellow.
Get the recipe:
Rocket pesto spaghetti