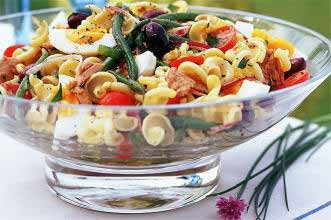 Quick pasta Niçoise
Why so healthy?
The tuna in this recipe is a great source of protein and the olives add bursts of low-calorie flavour to the dish. The light sauce makes this dish perfect for lunch or a summer meal.
Calories:
300 cals per portion
Fat:
18.0g
Time it takes to make:
25 mins
Top tip:
Double the portion if you want to have this pasta dish for lunch the next day.
Get the recipe:
Quick pasta Niçoise