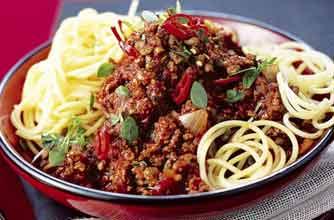 Slimming World spaghetti Bolognese
Why so healthy?
This recipe uses wholemeal pasta which contains vitamin E which is good for protecting and repairing the skin and lower-fat lean mince too.
Slimming World syns:
Extra easy:
½
, Original:
½
(6 syns for both if using white pasta)
Time it takes to make:
30 mins
Top tip:
If you want to make a vegetarian option use Quorn mince instead.
Get the recipe:
Slimming World spaghetti Bolognese