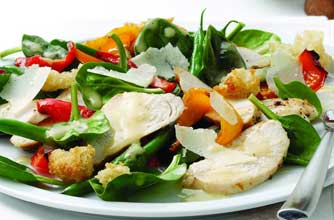 Roasted chicken and pepper salad
Why so healthy?
Spinach and green beans are packed with nutrients and minerals that are great for keeping the body healthy. This salad is filling too meaning no snacking before dinner time.
Calories:
434 cals per portion
Fat:
21.2g
Time it takes to make:
48 mins
Top tip:
If you've had a roast the day before, use up your leftover chicken in this recipe.
Get the recipe:
Roasted chicken and pepper salad