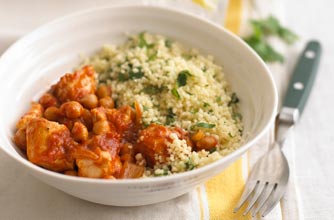 Chicken tagine with couscous
Why so healthy?
Couscous is a lighter alternative to pasta and rice and is the perfect accompaniment to the rich flavours of a Moroccan-style tagine.
Calories
:
340
calories per portion
Fat
:
15g
Time it takes to make
: 25 mins
Top tip
: Couscous expands quite a lot once it has absorbed the water so be careful to get your portions right.
Get the recipe: Chicken tagine with couscous