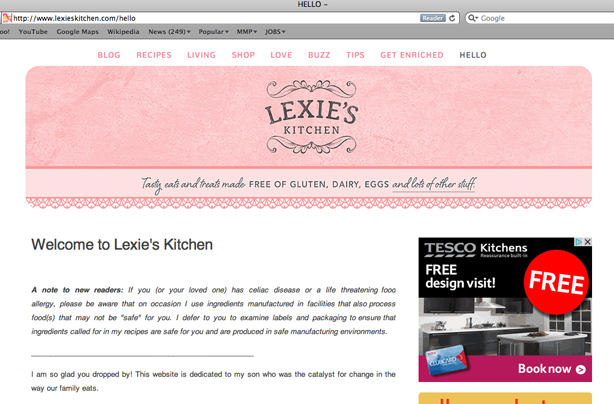 Lexie's Kitchen blog
Theme?
Lexie's blog is dedicated to her son as she tries to, through eating the right foods, help nurse him to health. He's not been diagnosed with a particular allergy but through testing foods Lexie has managed to learn that particular things irritate him, they are: gluten, dairy, eggs, excess sugar/fruit and preservatives. And so the blog aims to provide recipes for people who are also restricted with what they can eat - but still want to eat tasty food!

Why we love it?
We love that this blog could help so many different people with different allergies. The recipes are clearly labelled 'non-dairy' or 'gluten-free' so it makes finding things that are relevant to you really easy. Lexie is clearly so dedicated to helping her son get better by eating the right foods and the recipes genuinely look delicious.

Visit it:
lexieskitchen.com
Follow Lexie on Twitter:
@lexieskitchen