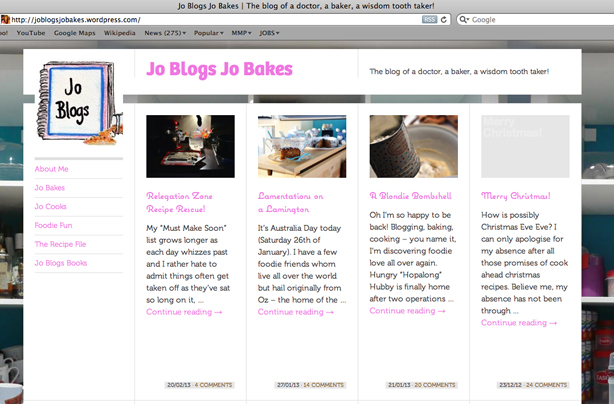 Jo Blogs Jo Bakes blog
Theme?
Jodie is a dentist and now a newly-qualified doctor - but, most importantly, she loves baking just as much as the rest of us! She admits it's 'slightly perverse that I have a cake-driven blog whilst doing what I do for a living' but she just 'adores to bake' - well, how can we argue with that? The blog is bursting with recipes for comforting cakes and the odd savoury recipes that scream 'cook me right now'!


Why we love it?
Stunning food pictures, creative ideas and ultimately
really
tasty recipes. Plus, the layout of the blog is great as it shows thumbnails of each post which makes it easy to navigate to what interests you.


Visit it:
joblogsjobakes.wordpress.com
Follow Jodie on Twitter:
@JoBlogsJoBakes