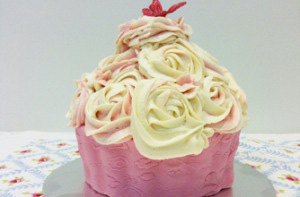 3. Giant cupcake
Good for:
Cupcake lovers
Flavours:
This recipe is made with a vanilla sponge but chocolate or lemon would work just as well.
Time it takes to make:
1hr 10mins
Why we love it:
Nothing will put a smile on a cake fan's face faster than a giant cupcake. It's the ultimate recipe to try if you want to make a celebration cake for someone's birthday.
Top tip:
You need a giant cupcake mould to make this recipe but you could attempt to carve layers of sponge by hand.
Get the recipe:
Giant cupcake