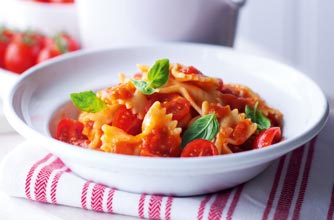 Only combine when serving
It's easier to save leftovers if they haven't all been combined together. So for instance, pasta sauce and plain pasta can be reused separately but they're a lot harder to re-use once combined. This is true for roast dinners too. It's very tempting to chuck the whole lot of sauce on the pasta in the pan but serving up individual servings of pasta then sauce on top will allow any leftovers to be saved separately.
Top tip
: Serve up food still in the pans so the family can help themselves to the amount of food they want. This is a great way to serve
Mexican
food.