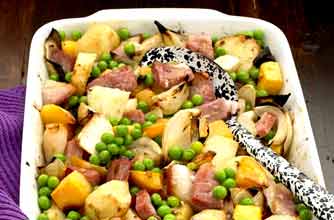 Michelle Pearce
What's in your fridge?
Whole chicken, spam fritters!, gammon steaks and all the usual suspects in cupboard - rice, pasta, stock, potatoes, frozen veg!
We recommend:
How about a nice tray bake? This
roasted roots with gammon
can be made with potatoes and veggies
.
Twists:
A tray bake is a pretty flexible dish - you can use any meat or vegetables you have in. Try stirring through a sauce to give it extra flavour.