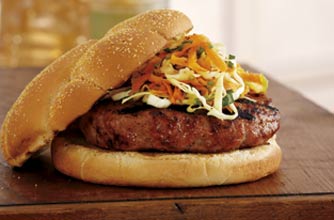 Tracey Read
What's in your fridge?
Bacon, eggs, milk, cheese, butter, pork burgers, carrots, tin chopped tomatoes, usual store cupboard carbs (pasta, rice, bread), apples
We recommend
:
Pork burgers with apple and tarragon coleslaw
- this recipe uses up the pork burgers, carrot, apple, bread and you could top with cheese and bacon for a naughty treat!
Twists
: This recipe would work just as well with beef burgers, chicken or turkey burgers too.