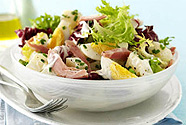 Christine Johnson
What's in your fridge? Eggs, cottage cheese, natural yogurt, tomatoes, cucumber, lettuce, ham, apples, grapes, milk

We recommend: West Midlands ham egg and potato salad - if you don't have any potatoes leave those out or swap for tomatoes instead! Add in your cucumber and lettuce and you're ready to go! If you fancy something sweet this apple yogurt cake is a great choice!

Twists: Swap the ham for cooked chicken strips instead. Fresh avacodo, cherry tomatoes and cucumber scattered throughout this salad would be perfect.