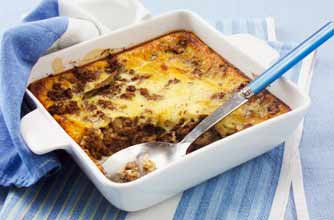 Jade Cooper
What's in your fridge?
'Mince beef, carrots, lettuce, cucumber, onion, chopped tomatoes, cheese, eggs, mushrooms and mayo - God, I need to go shopping!
'
We recommend:
Bobotie.
If you haven't got pasta or potatoes in to make a topping for a mince, vegetable and chopped tomato mix you can use the eggs to make a bobotie topping.
Twists:
Traditional Bobotie uses lamb mince but you can use whatever you have in. The custard-like topping would also be lovely atop some spiced chicken or roasted veggies.