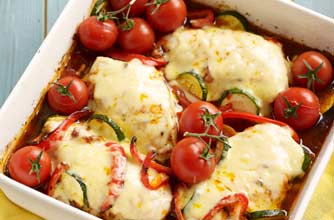 Michelle Finnigan
What's in your fridge?
Chicken thighs & breasts, mushrooms, tomatoes, leeks, carrots, cheese, bacon, eggs, spinach.
We recommend:
Cheesy chicken with ratatouille
. All your veggies would be lovely in a tomato sauce. This recipe says to use a ready made sauce but chopped tomatoes (or your tomatoes blended down) will be just as good.
Twists:
Goat's cheese or Feta would give the dish a punchier flavour as would the addition of sun-dried tomatoes.