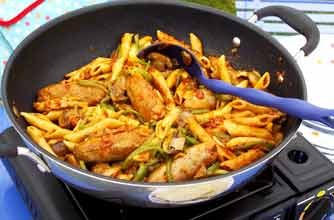 Gina Stokes
What's in your fridge?
Mince, sausage, mushrooms, carrots, cauliflower, broccoli, cabbage, pasta, sun-dried tomatoes
.
We recommend:
One-pan sausage pasta
. All your veggies and the sun-dried tomatoes would go lovely with this sausage pasta recipe
.
Twists:
You can split the sausages open and use the meat to form small meatballs for a different spin on this meal.