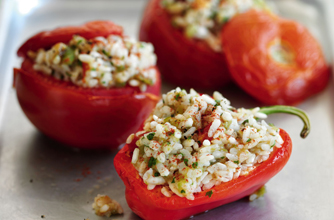 How to freeze stuffed peppers
It can be quite hard to cater for vegetarians especially when they turn up for dinner unexpectedly so
stuffed peppers
are a must-have in your freezer. The perfect sides for BBQs, healthy lunch treats or a vegetarian favourites, stuffed peppers are an all round pleaser and are so simple to make in bulk.
How to freeze:
If you're stuffing your pepper with rice (a classic filling choice) make sure your rice is completely cooled before stuffing and freezing.
Stuff your peppers with your filling of choice and freeze in a ziplock bag or altogether on a large baking tray covered in clingfilm.
How to defrost:
Leave your peppers in the fridge overnight or on the kitchen side covered in kitchen roll. If you've stuffed your peppers with rice, it is best to defrost them in the fridge. Cook the peppers in the oven until soft.
Choose one of our stuffed pepper recipes to make in bulk and freeze