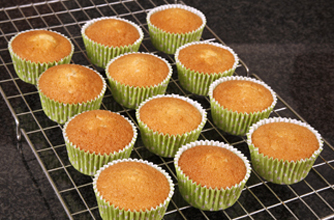 3. Basic cupcake mixture
Good for:
Decorating with the kids.
Flavours:
Moist and soft vanilla sponges.
Time it takes to make:
40 mins
Why we love it:
These cupcakes are so simple to make, you can adapt the recipe to suit your tastes - like adding in lemon juice and zest to make lemon cupcakes, for example. They're also great for practising your cupcake decorating skills seriously or messily with the kids.
Top tip:
If you want to keep all of your cupcakes the same height when baking, use the same spoon or an ice cream scoop to fill your cases.
Get the recipe:
Basic cupcake mixture