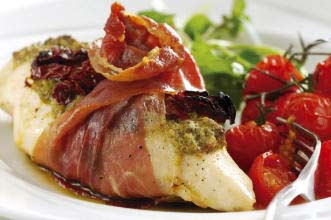 7. Stuffed chicken with Parma ham
Good for:
When you've got friends round for dinner.
Flavours:
A rich smoky flavour from the Parma ham with a nutty pesto filling.
Time it takes to make:
35 mins
Why we love it:
If you've never had stuffed chicken before, you really must try it. This recipe is ideal for beginners, it has such a simple method. Cut open the chicken, add the pesto, wrap in Parma ham - job done!
Top tip:
You could try this recipe using Pancetta or thinly-sliced chorizo instead.
Get the recipe:
Stuffed chicken with Parma ham