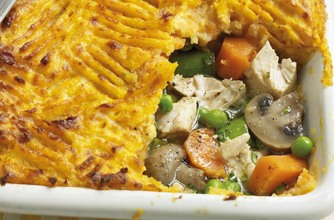 3. Slimming World's chicken and leek pie
Good for:
When you're counting the calories but don't want to miss out on favourites.
Flavours:
A soft, creamy mash topping with a light vegetable-filled filling.
Time it takes to make:
1hr 30 mins
Why we love it:
Yes, pie really can be healthy! Don't worry though, you don't miss out on any flavour with this recipe. This healthy pie replaces the pastry with a sweet and white potato mash that will win the family over in no-time.
Top tip:
If you want to bulk up your mash you could add carrots and swede to the mix too.
Get the recipe:
Slimming World's chicken and leek pie