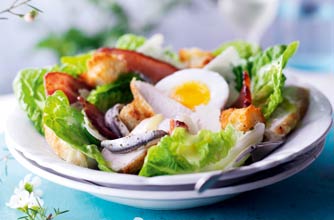 14. Chicken Caesar salad
Good for:
When you're trying to be healthy.
Flavours:
The classic creamy, slightly salty, Caesar sauces gives the salad ingredients a nice luxurious flavour.
Time it takes to make:
50 mins
Why we love it:
Salad doesn't have to be boring meal option. You can make this restaurant-favourite in the comfort of your own home - without having to resort to a ready made sauce.
Top tip:
You can add croutons to this recipe too if you fancy - croutons are a great way of using up stale bread.
Get the recipe:
Chicken Caesar salad