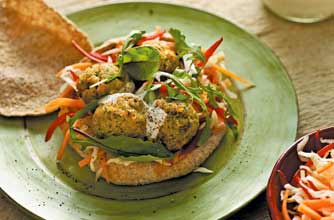 Falafel pittas
These falafel pittas are surprisingly cheap to make at home. You only really need a couple of tins of chickpeas, and some herbs and spices, to make falafels - and this recipe comes with a low-cal homemade coleslaw too.
Get the recipe:
Falafel pittas
Serves
: 4
Ingredients
: (Asda)
Chickpeas: 76p
Wholemeal pitta: 60p
Red pepper: 80p
White cabbage quarter: 16p
2 carrots: 16p
Natural yogurt: 45p
Cider vinegar: 84p
Total
: £3.77
Cost cutting tip:
You can use tahini (sesame paste) in your falafel for a smoother texture but we left it out as it's not essential and it adds to the cost.