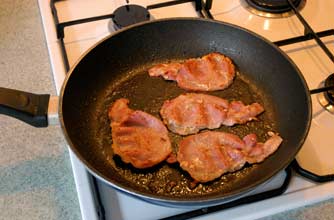 Frying food
Frying your food is by far the unhealthiest way to do it and there is nearly always a healthier way to cook your food. Grilling or baking may take a little longer to do but it will reduce the fat content of your meal.

Break the habit:
- Ask yourself, 'Is frying the only way I can cook this?' An egg can be poached, hard boiled or scrambled and bacon is just lovely when it's left to crisp under the grill.
- If you really do want to fry, make sure you use as little added fat as you can and leave the food on a piece of kitchen roll to absorb excess fat.