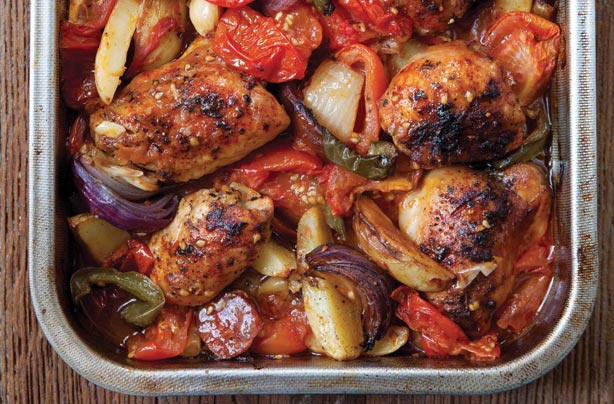 1. Hairy Bikers' Spanish style chicken bake
Good for:
A weekend guilt-free dish that everyone can enjoy together
!
Flavours:
A chorizo-infused sauce with tangy red onions, juicy tomatoes and a smoky paprika and fresh oreganofinish.

Time it takes to make:
1hr 15 mins

Why we love it:
You can't beat an all-in-one tray bake especially when it's a recipe from the Hairy Bikers. This dish blends all the lovely Spanish flavours together in just one pan - which will mean less washing up!

Top tip:
If you have any of this dish leftover, pop it into an airtight container and store in the fridge for up to 3 days. Make sure you re-heat it thoroughly before serving.

Get the recipe: Hairy Bikers' Spanish style chicken bake

Where to next?
- More chicken recipes!
- Dinners under 500 calories
- Cake hall of fame