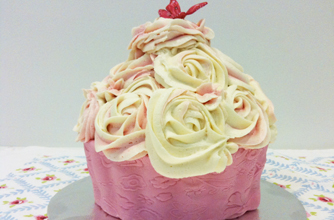 6. Giant cupcake
Good for:
Practising your cake decorating skills.

Flavours:
A vanilla-based sponge with a sweet strawberry jam and vanilla buttercream topping.

Time it takes to make:
1hr 10 mins

Why we love it:
Nothing will put a smile on that special someone's face faster than a giant cupcake. It's the ultimate recipe to try if you want to impress your friends and family - it's the perfect celebration cake!

Top tip:
When it comes to adding the buttercream make flowers or star shapes with your piping bag - it's much easier than one continuous swirl.

Get the recipe: Victoria Threader's giant cupcake