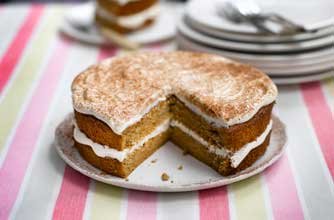 17. Weight Watchers' coffee tiramisu cake
Good for:
Enjoying when you're on a diet
.
Flavours:
A light creamy sponge with a delicious coffee flavour.

Time it takes to make:
40 mins

Why we love it:
There's something very satisfying about biting into a coffee-infused sponge - especially when you know it's a Weight Watchers' recipe. Don't worry though, you don't miss out on any flavour or sweetness in this recipe, just calories instead!

Top tip:
If you want a stronger flavour, use extra strong coffee.

Get the recipe: Weight Watchers' coffee tiramisu cake