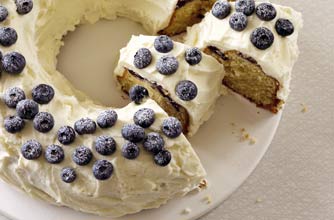 14. The Hummingbird Bakery blueberry cake
Good for:
Using up any leftover blueberries sitting in the fridge.

Flavours:
A soft vanilla sponge with a light topping and fresh blueberries.

Time it takes to make:
1hr 5 mins

Why we love it:
This cake looks really impressive, but it actually couldn't be simpler to make and decorate. A light layer of cream cheese frosting and a scatter of blueberries turn this easy bake into a masterpiece worth sharing
.
Top tip:
Raspberries would work just as well in this recipe.

Get the recipe: The Hummingbird Bakery blueberry cake