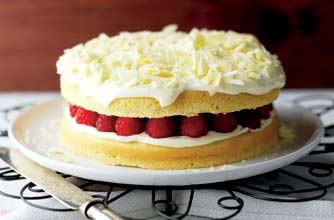 13. Weight Watchers' white chocolate cake
Good for:
When you're counting the calories but fancy something sweet.

Flavours:
Creamy white chocolate with tangy raspberries and a light low-fat topping.

Time it takes to make:
45 mins

Why we love it:
How good does this cake look? You wouldn't believe that it's lower in calories than your average chocolate cake! Does that mean we can have more than one slice?

Top tip:
This recipe would work just as well with dark chocolate for a richer finish.

Get the recipe: Weight Watchers white chocolate cake