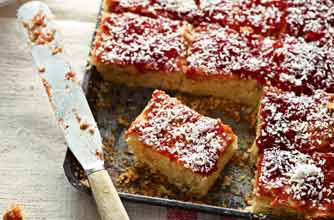 Squares
Squares are great for bake sales. You can make a large tray of your chosen recipe and then cut them up into bite-sized pieces. Squares are great for experimenting with different flavour combinations too - from caramel fudge bars to berry cake bars, you'll be spoilt for choice and so will your buyers!
Get the recipe:
Jammy coconut squares

To make 18 squares you will need:

Milk = 2p

Butter = 69p

Golden caster sugar = 50p

Eggs = 50p

Vanilla extract = 11p

Self-raising flour = 41p

Strawberry jam = 7p

Coconut = 12p

Potato = 42p

Total:
£2.84

Price per square:
16p


Price to sell (per square):
at least 32p per square to double your money. Sell them at 50p maximum if selling with extras or up to £1 with gift bags.


Cheap extras

Different jam or marmalade
Grated chocolate
Sweet potato
Butternut squash