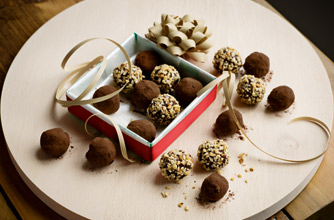 Chocolate truffles
Chocolate truffles will work wonders at a bake sale. You can make so many in one go and all you have to do is leave them to chill whilst you prepare other baked goodies for the sale. You can sell them in gift boxes as an extra special treat or in see-through bags.
Get the recipe:
Gordon Ramsay's mint chocolate trufflesTo make 80 chocolate truffles you will need:
Double cream = 75p
Single cream = 53p
Mint = £1.00
Dark chocolate = £5.00
Butter = 30p
Honey = 31p

Total:
£7.89

Price per bag:
49p


Price to sell (per 5 in a bag):
at least 98p per bag to double your money. Sell them at maximum £1.50 with extras.
Cheap extra
Different chocolates: milk, dark, white etc.
Coconut
Mixed nuts
Cocoa powder
Crushed chocolate flake bars
Crushed amaretti biscuits
Ribbons and gift boxes