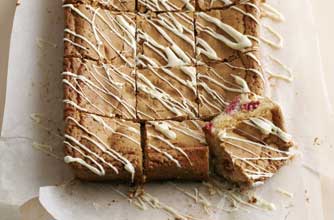 Blondies
If brownies work, blondies will too! These white chocolate classics are really simple and they taste delicious too. You can pack them with fresh berries and dust with icing sugar - they're perfect for tempting someone to try something new!
Get the recipe:
White chocolate and raspberry blondiesTo make 12 blondies you will need:
White chocolate = £2.26
Butter = 28p
Eggs = 50p
Caster sugar = 8p
Vanilla essence = 11p
Self-raising flour = 16p
Baking powder = 18p
Raspberries = £2.25

Total:
£5.82

Price per blondie:
48p


Price to sell (per blondie):
at least 96p per blondie to double your money. Sell them at maximum £1-£1.20 with extras or gift bags.
Cheap extras
Different chocolate: milk, dark, white etc.
Mixed berries: blackberries, strawberries