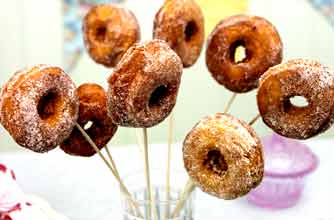 Doughnuts
Impress your buyers by rustling up a batch of homemade doughnuts. Not only will they smell delicious, encouraging bake sale goers to buy, they'll look good too - especially if you present them on sticks or piled sky high!
Get the recipe:
Cinnamon ring doughnutsTo make 20 doughnuts you will need:
Self-raising flour = 40p
Baking powder = 18p
Caster sugar = 30p
Eggs = 33p
Sunflower oil = 4p
Milk = 9p
Cinnamon = 18p

Total:
£1.43

Price per doughnut:
7p


Price to sell (per doughnut):
at least 14p per doughnut to double your money. Sell them at 50p maximum with extras like on sticks or coated in other toppings like chocolate.
Cheap extras
Skewers/sticks
Different chocolate: dark, milk, white etc.
Sugar strands
Mixed nuts

Where to next?
Cake recipes
40 easy tray bake recipes
What to bake for a school fete