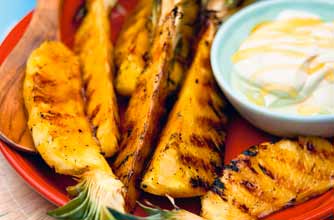 How to BBQ pineapples
Super sweet and full of flavour, pineapple isn't just to be enjoyed raw. It's delicious slightly grilled as it's natural sweetness gets caramelised.
How to BBQ

If using a whole pineapple, prepare into rings or think slices. If using tinned, drain and select sizeable pieces of pineapple to use. Sprinkle with brown sugar and place on the BBQ (you can use skewers to keep them in place). Serve with a chocolate dipping sauce for a naughty treat. You can even give the pineapples a boozy glaze for the adults.
Try our rum-glazed griddled pineapple recipe
Where to next?
20 classic BBQ recipes
Healthy BBQ recipes
10 best veggie burgers