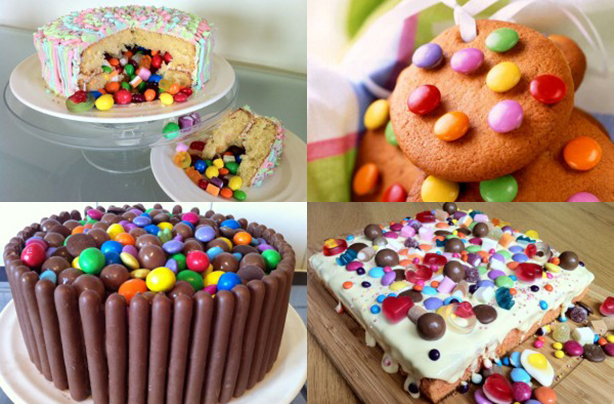 Bake with sweets
Sweet
recipes
are our favourite kinds of recipes! And with this lovely collection we think it's most definitely a case of 'the more, the merrier. Piled high with sweets, chocolate and treats these are the kind of recipes that won't be around for long so if you're looking for a crowd-please birthday cake or party centrepiece then these would be perfect.
The kids are really going to love these sweetie-covered cakes and bakes. From a cracking piñata cake to a gooey marshmallow-topped birthday cake, we've got lots of naughty treats for you to make at home. They may not be the healthiest cakes in the world - but these sweet recipes are for special occasions - and we all deserve a little treat once in a while.
Maltesers, Smarties, Haribo or M&Ms - whatever sweets or chocolates you love can be added to your baking to give it a fun twist. We like to use them in all different ways, whether that's stirred through a batter, hiding in the middle or added at the end for a really impressive finish. There's no right way with sweet recipes we think though, so if you fancy getting creative and giving one of these treats your own twist then we think, go for it! And if you've had a genius idea then don't forget to share a snap in the comments section below or send us a picture on Facebook – and yo never know, we might recreate your creation.
You can get the kids involved with the baking and decorating too - they'll just love getting creative with their favourite treats. Although, from our experience you may well have to be prepped to lose some of your chosen treats along the way due to 'tasting' purposes.
So if you fancy giving your kids a naughty treat every once in a while then why not make it a sweetie-covered one?
Come and see our favourite bake with sweets recipes now to choose your favourite...