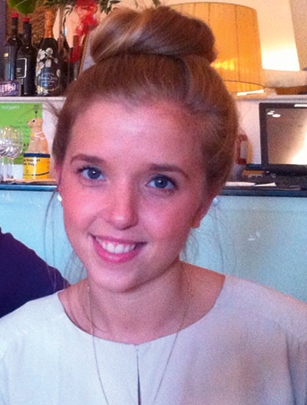 Rosie Conroy - goodtoknow's Recipes Assistant
It?s a leisurely start for our team. Long gone are the days of early rises, setting alarm clocks and jumping on mum and dad?s bed till they got up. We don?t even seem in too much of a rush to open our presents anymore as we leave them till the afternoon, how boring!

At around eleven our friends start arriving for drinks and nibbles, Dad is always on making sure everyone has a glass of kir royale and I usually get left in the kitchen with my sister to motor out plates of smoked salmon on thickly buttered wheaten bread to soak up some of that alcohol.

Once our guests have left it?s time to think about our tummies again. As you might be able to tell by now our family aren?t ones for moving too quickly and so dinner isn?t till four or five sometimes. This typically means we will have to keep ourselves going on chocolate, champagne and crisps - a challenge I really look forward to.

We will have already made our stuffing, gravy and prepared all or veg before the big day to minimise our time in the kitchen. On the protein front we don?t normally do turkey, it?ll be a goose, pheasant, or chicken with a Christmas orange, honey and mustard clove studded ham for our centrepieces. There is no question over two types of potatoes is there? One fluffy, buttery mashed potatoes with spring onions and one crisped roasties cooked in goose fat and sprinkled with salt.

After mains we have some sort of pudding that Nanny will bring - anything from steamed treacle pudding and custard to a classic trifle. The evening is then spent in the best way possible, lying on the sofa watching Christmas television in front of the fire with our little cat too who was our Christmas Conroy family addition last year. There?ll be plenty of sugar between dinner and bedtime but not anything much of substance because of our late start on dinner.