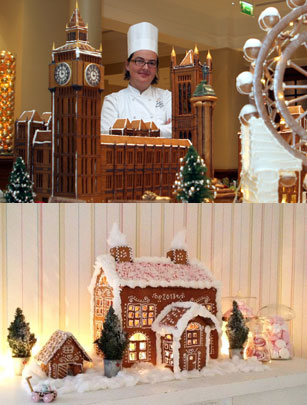 Best gingerbread houses
Are you ready for some of the best gingerbread houses we've ever seen? If you love gingerbread as much as we do, we're sure that these very impressive gingerbread houses are going to blow your mind (well, maybe not literally but you know, you'll be really impressed!)
We just can't get over how people can recreate the most stunning designs, from biscuit! The careful layers upon layers of sheets of dough are truly a work of art. From the Houses of Parliament to massive gingerbread mansions, this collection of gingerbread houses definitely have the 'wow' factor when it comes to both size and design. We can't quite decide whether we like the towering buildings or the intricately decorated versions better – it's a tough choice. If you've made what you think is the best ever gingerbread house then let us know, we'd love to see your designs. Simply send us a picture on
Facebook
,
Twitter
or
Instagram
so that we can see what you've been up to.
If you fancy giving it a go yourself, watch our step-by-step video to
make your own gingerbread house
. It's easier than you might think and makes a great project to get the kids involved with during the holidays, just remember to have plenty of sweets on hand for decorating purposes! This would also make a lovely activity if you have a party coming up. You can pre-prep the gingerbread biscuits and then, depending on the ages of the children coming, they can build and decorate their own house using handfuls of sweets, sprinkles and some ready made icing.
So whether you're looking for some gingerbread inspiration or just fancy having your mind boggled,
click through to see all of the amazing designs of the best gingerbread houses we've ever seen. Prepare to be amazed...