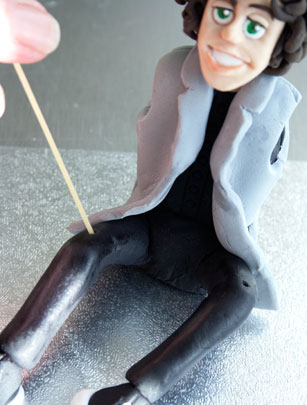 Harry's Christmas sign
Roll out a thin piece of white paste and cut out a rectangle, big enough to sit on across
the width of Harry's legs. Insert small pieces of dry spaghetti through the bottom on each side and allow to dry (these will be used to position into Harry's thighs).

Paint your greeting on with a black edible pen or edible paint, you can replace the Christmas message with a birthday greeting to suit your occasion. Allow this to dry then
decorate with star sprinkles.

Once the sign is dry, mark the desired position of the sign on Harry's knees and using a sharp tool or spaghetti, make small holes for the sign to sit in.

Attach the sign to Harry's knees by dabbing a little glue in the holes. Place a piece of rolled up kitchen roll behind the sign for extra support and allow to dry.