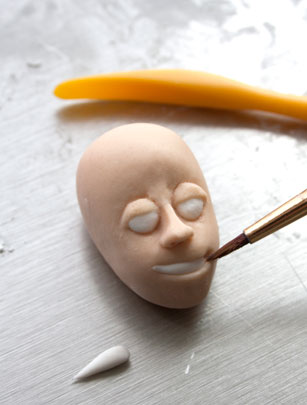 For the mouth
Teeth: Shape a small piece of white icing into a teardrop and a small piece of flesh coloured icing into a sausage, rolling both ends to a point, divide this into two length ways.

Attach the white icing into the mouth opening and blend with a brush.

For Harry - make his mouth wider to create a bigger grin.

Using smaller rolls of flesh coloured icing, add the lips and blend with a small brush until you have the required shape.

Set the head to correct position using a mini stick. Place into the foam and allow to dry.

Shape eyes and mouths according to your character reference picture.