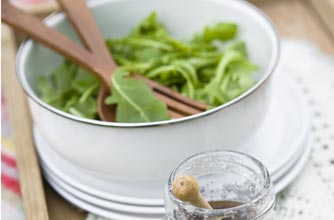 Rocket
What is it?
Rocket is a Mediterranean plant from the cabbage family which is often eaten in salads and has a deliciously peppery taste.

How much does it usually cost?
£1.00 for a bag of 70g
How to use:
Rocket is often bought prepared and ready to eat straight from the bag. Just wash with some water before adding to your chosen dish. If you're adding it to a warm or hot dish, add it last so it doesn't wilt and go too soggy.
Dishes to add it to
: Salads, pasta and risotto are the best dishes to use rocket. The peppery flavour is complemented best with lighter meats such as chicken and pork.
Rocket recipes to try: