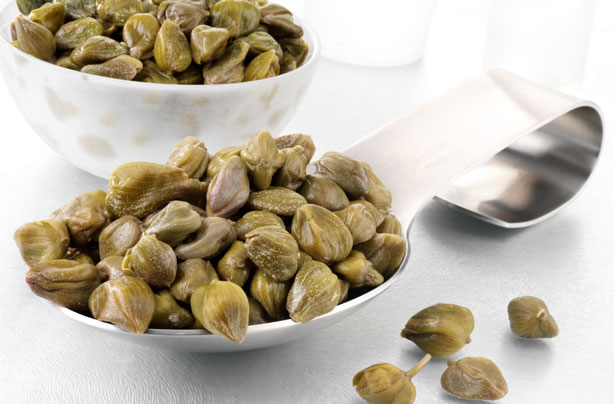 Capers
What is it?
Capers are pickled flower buds from a bramble-like shrub found in southern Europe which are cooked and used to flavour foods. They have a tangy taste and are often bought preserved in brine or vinegar.

How much does it usually cost?
£1.79 for 240g
How to use:
You don't have to do much to capers when adding them to dishes. Just drain them if bought in a jar or tin and use as you wish.
Dishes to add it to:
Sprinkle on a salad, add to pizza or serve alongside a fresh piece of fish for a fresh, salty taste.
Capers recipes to try:

Give your potato salad a delicious twist by adding some tangy capers to the mix. Our potato salad with capers and mint is a great combo.
Add capers to your fish burger just like in this fast fish burger recipe. It combines white fish with parsley, capers and a little olive oil to make one tasty burger.
This salmon, anchovy and capers pizza is another great way to get the best flavour out of your capers. Plus they really compliment the salmon too.