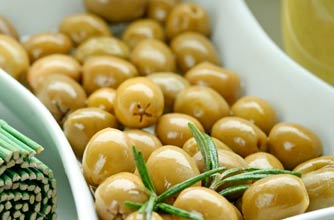 Olives
What is it?
Olives are small fruits grown on trees with a hard stone in the middle and bitter flesh. They're packed full of nutrients and often only used as a starter but they add so much flavour to meals.

How much does it usually cost?
£2.00 for 210g
How to use:
Buy preserved or fresh olives in jars and slice into small chunks and add to sauce preparation when cooking the onions.
Dishes to add it to:
Pasta and casserole sauces are given a lovely, salty flavour with the addition of olives to the sauce. Olives also liven up a salad when simply sprinkled on top.
Olive recipes to try: