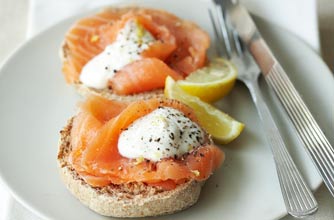 Wholemeal muffins with smoked salmon
Why so healthy?
Light and tasty, this breakfast will keep you going until lunch without making you feel heavy. Eating plenty of oil-rich fish like salmon is a great way to cut your risk of heart disease and so is the perfect meal to set yourself up for the day. This recipe can be whipped up in minutes, so no excuses for skipping the most important meal of the day!
Calories:
295

Fat:
5.3g

Time it takes to make:
15mins

Top tip:
Adding protein to your breakfast will help you feel fuller for longer, keeping you off the snacks.
Get the recipe:
Wholemeal muffins with smoked salmon