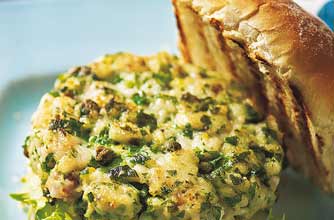 Fast fish burgers
Why so healthy?
If you fancy a burger it doesn't have to be beef! We love these delicious zingy fish burgers. Packed with the flavours of parsley, lemon zest and capers, there is no need for any fatty ingredients you usually see creeping up in burger recipes.

Calories:
141

Fat:
5g

Time it takes to make:
16mins

Top tip:
To make them even healthier you could spritz with an oil spray and bake in a medium oven for around 30 minutes instead of frying.
Get the recipe:
Fast fish burgers