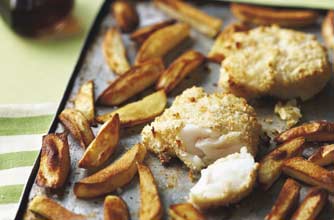 Oven baked fish and chips
Why so healthy?
Tweaking one of your favourite recipes means that you won't have to give up on those delicious treats, even when you're watching your weight. This delicious fish and chips recipe is the perfect example of making a classic slightly skinnier to help you along on your health kick. Sacrificing the deep fat fryer and baking the fish and chips lowers the fat significantly. Using a white fish like haddock will make sure you get a good dose of healthy B vitamins, helping your metabolism keep up to speed.
Calories:
571

Fat:
17g

Time it takes to make:
55mins

Top tip:
Try oven baking other things that you would usually fry for a healthier spin, like fishcakes.
Get the recipe:
Oven baked fish and chips