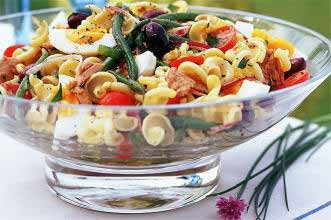 Pasta Nicoise
Why so healthy?
Tinned tuna makes the perfect store-cupboard go-to if you are watching your weight, or even if you are just trying to eat well balanced meals in general. This type of fish is already a firm favourite for lots of families and it's not hard to see why. Versatile, subtle and packed full of healthy oils, vitamins and minerals, it is perfect for the whole gang. One of tuna's lesser-known qualities is that it has high levels of B vitamins which help to build and maintain red blood cells, giving you lots of energy.
Calories:
300

Fat:
18g

Time it takes to make:
25

Top tip:
Make plenty and take it packed up in a box for a healthy lunch.
Get the recipe: Pasta Nicoise