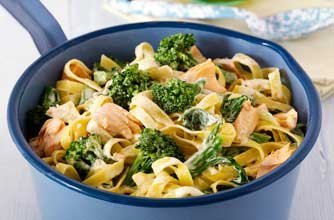 Broccoli and salmon tagliatelle
Why so healthy?
This family dish is full of superfoods so make sure the kids clear their plates! Just one serving of this pasta contains a third of your recommended daily allowance of Vitamin C which helps fights coughs and colds too. Also, did you know that broccoli contains almost every vitamin and mineral? We usually find it goes down well with the little ones when you call them mini 'trees'.
Calories:
629

Fat:
26.8g

Time it takes to make:
20mins

Top tip:
Other dark green veggies, like spinach, are also rich with vitamins and minerals so try and eat plenty throughout the week.
Get the recipe:
Broccoli and salmon tagliatelle