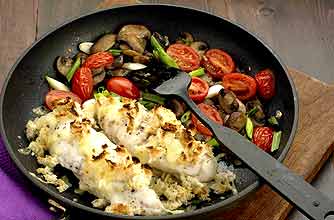 Monkfish pan fry
Why so healthy?
A healthy dinner idea that has a crunchy cheesy top? We know, it sounds a bit too good to be true but this delicious dish is only 265 calories. Monkfish is naturally high in brain-boosting vitamins like B-6 and B-12, so is another fish which will help keep you being the brain box we know you already are! As a one pan dinner, that can be made in minutes, this is perfect for when you're short on time (for cooking or the washing up!)
Calories:
265

Fat:
12g

Time it takes to make:
25mins

Top tip:
This recipe is great if you're new to cooking fish because you don't need to turn or flip it in the pan. Simply pop in the pan and let cook for ten minutes.

Get the recipe:
Monkfish pan fry