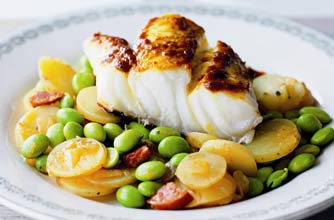 Spiced cod and beans
Why so healthy?
Being healthy doesn't have to mean cutting out those carbs, as this recipe proves. Thinly slicing new potatoes in this dish results in a hearty meal with only 31g of carbohydrates, 290 calories and just 5g of fat! High in protein, cod will make sure you stay fuller for longer and has a delicious, delicate flaky texture. This recipe uses the smoky, Spanish flavours of chorizo sausage, ground cumin and paprika to perfectly contrast with the subtle fish.
Calories:
290

Fat:
5g

Time it takes to make:
45mins

Top tip:
The broad beans can easily be substituted for any other type of beans such as French green beans or tinned cannellini beans.

Get the recipe:
Spiced cod and beans